Hi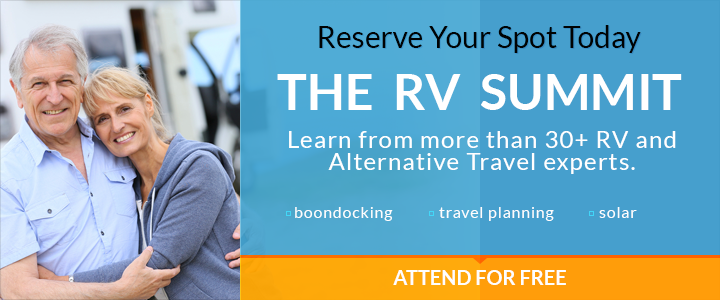 Marianne Edwards will be interviewed as part of the upcoming RV Summit!
The mission of The RV Summit is to promote travel, to encourage spending more quality time with friends and family, to explore and discover our country and world. This incredible online event has the potential to make your dreams come true!
Better yet, it's completely free from May 5th to 11th so there's no reason to miss it!
The RV + Travel Summit was created to share:
the expertise and insights of RV Travelers who are living the lifestyle
full time RVers with unique stories, tips and skills to share
specialty manufacturers, suppliers and vendors with a unique offer to help your dreams come true
The RV + Travel Summit will benefit anyone with a desire to learn more about RV travel - whether you plan on travelling for a few weeks or a few years! Learn about traveling full time no matter what your age - it is never too late or too early!
The RV travel Summit will teach you about:
Boondocking
RV Travel budgets
Pets & RV Travel
How To Downsize
RV Trip Planning
Full Time RV
Here are a few of the travellers that were interviewed for The RV + Travel Summit:
Rick & Kathy Howe, Travelin Tortuga - Living Full Time On The Road For Over 13 years - in the USA, Europe, and Africa!
Lisa McElroy, author - My Midlife Crisis: I Bought a Teeny Weeny Trailer.
Marianne Edwards, Boondockers Welcome - Frugal RV Travel, it can happen! Discover where and how to boondock.
Don & Shelly Hafner - Our Dream To Visit 59 Parks In 59 Weeks - hear how they are doing it and the discoveries along the way.
Roger & Gail - The Blessings of Downsizing Two Air Heads In A Cloud.
Wayne & Pat Dunlap - Secrets Of Traveling World for Less Than Cost Of Living At Home.
David & Veronica James - Breaking The Empty Nest Rules! The Gypsy Nesters.
With 20 additional RV travelers sharing their insights about RV travel, this invaluable (and FREE) resource is intended for anyone who wants to learn about RV travel!
The RV + Travel Summit is (ONLINE and FREE) from May 5th - 11th, 2015!
Register for FREE today with this link.
I'll see you at the RV + Travel Summit!